Barton Marine are proud to co-sponsor the inaugural Women in Marine Day at Southampton Boat Show, alongside taking part to encourage youth to get involved in the industry by actively supporting the Young People in Marine Day.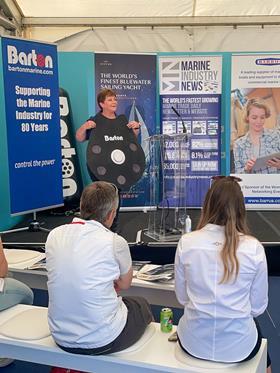 Building on the success of previous networking events, Southampton Boat Show 2022 will host the first Women in Marine Day on the 22nd September. Comprising of four main sessions, topics including wellness, mentoring, panel discussions and networking, provide excellent opportunities for women to get together to enhance their learning and development, as well as network with friends and colleagues of varying experience. Running from 08.30 to 18.00 you can register for theses open events at southamptonboatshow.com/wim.
Barton is also pleased to support the School, Careers and Apprentice Day on the 20th September. Barton Marine's Operations Manager Dermot Bealey will be on hand to guide and advise young people looking to kick start their marine career as part of the Career Speed Networking Event in the Holiday Inn from 2pm to 7pm. It is a great opportunity to find out what it takes to work in research, development and production in a thriving UK marine manufacturing environment, creating high quality products to export around the world.
Kids will also have the chance to see now fast and nimbly they can work in manufacturing by participating in the Beat the Barton Block Clock! Presented with a tray of parts, participants will test their ability to assemble them into a yacht-ready block against the clock to make the cut at the top of the leader board. Prizes will be up for grabs for the fastest on the day. Find Barton's Beat the Block Clock stand next to the Foredeck Stage on Tuesday 20th.
As a UK manufacturer of great value, high quality deck equipment at their base in Whitstable, Barton place huge importance on encouraging new entrants, greater diversity and more sharing of knowledge in the marine industry. Securing the future with innovative, fresh thinking and encouraging those already working in marine industries to develop and grow.
The Barton team can be found on stand J316 in the Ocean Hall outside of the above events, showcasing a selection of their range of over 1800 items of deck hardware. They look forward to seeing you at the show.
For further information contact:
Chris Jones - Founder, The Knot Agency - / +44(0)20 3468 3458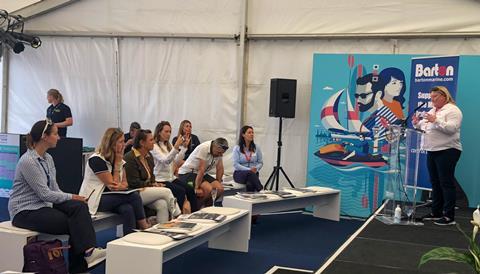 About Barton Marine
Barton Marine has been a worldwide supplier of blocks since 1948 in Whitstable, Kent. The founder, Ron Barton, was one of the first to use Tufnol, and later, plastic injection moulded plastics and stainless steel to manufacture yachting blocks which were much lighter and stronger than previously achievable. 70 years on, Barton Marine remains the premier UK deck equipment manufacturer for leisure sailing yachts up to 48 feet and supplies the range worldwide.