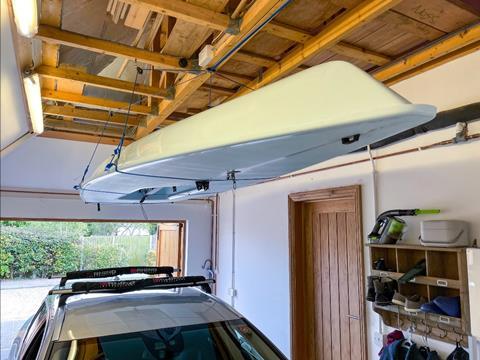 Barton Marine launches two new innovations to the world at METSTRADE. The new products are on display and presented from the 16th – 18th November, in Amsterdam on stand 01.479. The Stanchion Bullseye and SkyDock are both designed to enhance boating experiences, on and off the water.
SkyDock
SkyDock is the ultimate roof space storage solution for loads up to 80kg/175lbs. It is perfect for use in any space with a ceiling height up to 4m/13ft. From home applications in garages, sheds, barns and lofts to commercial uses in yards, marinas, yacht clubs and warehouses.
It smoothly lifts bulky and awkward objects or loads, out of the way, from the floor or roof of your car, to stow them up high until needed again. It is ideal for dinghies, kayaks, canoes, paddleboards, camping equipment, roof boxes, bicycles, garden furniture, horse saddles, pallets of assorted bits and pieces and literally anything else that needs to be stored out of the way – but retrieved easily and smoothly when needed.
Available with a 3:1 purchase system for great value or a premium 4:1 system for effortless lifting power. Both come with a unique self-locking block, meaning loads can be raised by one person without stress. If the control line is released the locking block firmly holds the load, stopping items from falling. For ultimate security, a fixed wall cleat is supplied to tie off the line.
Easy to install with a video guide available for assistance, the clever design enables flexible installation of the fixed eyes to suit the layout of weight bearing roof beams. This ensures loads are lifted equally and evenly.
The sky's the limit when it comes to storage with SkyDock. RRP – from £168 / €199.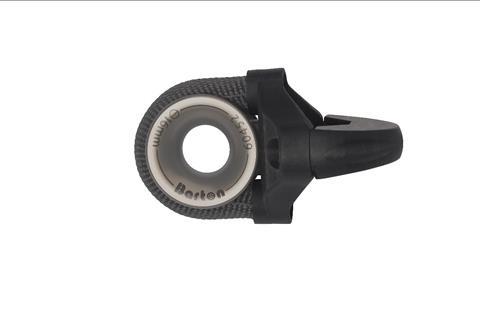 Stanchion Bullseye
A visually stunning addition to the Barton range is the new Stanchion Bullseye which fits to the base of stanchions for smooth control of furling lines. The contemporary sleek design features a Dyneema-effect securing strap over the metal retaining rod, through-bolted onto a fully enclosed backing plate for a clean finish. Ideal for racers and cruisers alike, it fits stanchions up to 32mm. The Stanchion Bullseye has no moving parts so weight is kept to a minimum and no new holes are required in the deck.
The superior, super smooth, hard anodised finish on the high load eye provides low friction and excellent support for slick running lines and excellent abrasion resistance for long term service life. making sailing life smoother. RRP - £22.80 / €27.13
All in the media are invited to discover these new products, other recent additions and the rest of the Barton range at The METSTRADE Product Launch Drinks at 6pm on Tuesday 16th November on Stand 01.479.