Lumishore has expanded its LUX Lighting Collection to include CRGBW Flood Lights.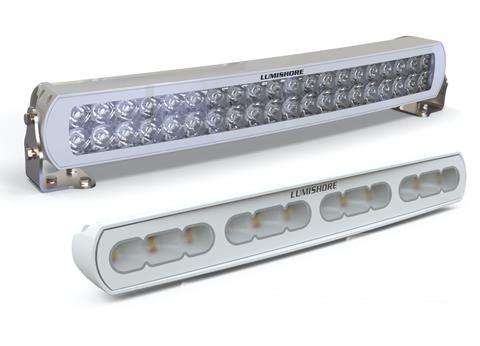 Available in both 4in and 18in models, the lights offer a high-intensity light source (1,050 and 7,500 fixture lumens).
Ultra-wide reaching oval beams (60° - 90° and 70° - 100°) allow full coverage and custom diffusion optics, creating consistent and smooth beam colours.
The flood lights combine warm and cold white - as well as red, green and blue - in a single lighting unit.
Accompanying these CRGBW models are Lumishore's new Single Colour Flood Lights - a simplified offering, also available in both 4in and 18in models.
Both feature a powerful fixture lumen output (between 1,500 and 10,000) of white light, designed to illuminate the hardest to see places, with wide reaching oval beams of 70° - 100°.
The low-profile lights are designed to be easily mounted to cabin tops, T-tops, arches, transoms and radar pedestals.
Low-profile
Lumishore has also introduced new low profile Single Colour Curved Spotlights, that have been designed to deliver performance and high-intensity outputs (between 15,000 and 39,600 fixture lumens) of crisp, white light.
The four model sizes in the new Spotlight range include 20in, 30in, 40in and 50in.
"Lumishore is delighted to continue to expand its above water lighting options," said Lumishore CEO, Eifrion Evans. "This is the first of many additions to the Lumishore range that our expert research and development team have been working on throughout COVID."
The Spotlight and Flood light range can be controlled via an on/off switch or connected to an MFD for further customisation and ease.
All light models offer dimming as standard.
Lumishore will be on stand 03.300 at METSTRADE.