The UK is renowned for its changeable weather conditions and the body's climate can fluctuate as internal temperature and perspiration levels vary, even during moderate exercise, says Katina Read.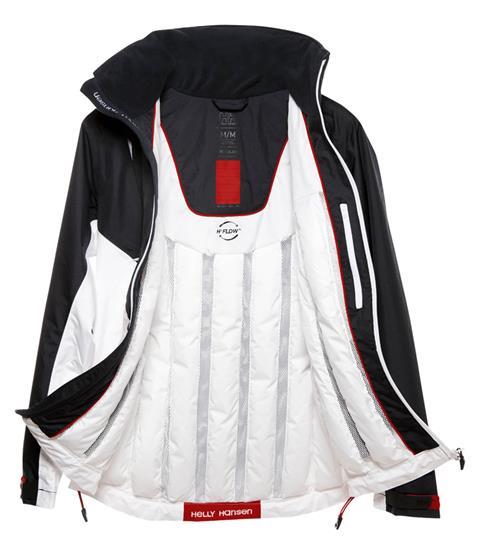 Boaters have to shed or add layers in order to deal with different activities, whether its short bursts of activity around the race course, long periods sat on the rail beating upwind or sailing downwind spinnaker flying, if the right layers are not worn, this leads to reduced comfort and performance.
An unforgiving salt water environment just adds to the challenges clothing design and development teams need to overcome.
"Even without considering unstable and changing weather, sailing is inevitably a mix of going upwind and downwind – leading to huge differences in temperature because of wind-chill," says Kristoffer Ulriksen, category manager for sailing for Scandinavian based Helly Hanson which has developed H2 Flow technology to overcome all these obstacles.
Standing for Hollow Heat Flow, the technology has been tested by the Norwegian Technical and Nature Science University.
Combining an insulation layer, airflow venting system and a protective waterproof breathable barrier, the technology has been designed to eliminate the need for multiple layers.
Ventilation
Two products have so far been developed – a mid layer, H2 Flow Jacket and an outer jacket – the Crew H2 Flow which has been awarded the German Design Award 2014 for the women's version – with a base layer currently under development.
"With the Crew H2 Flow Jacket we've created the first waterproof breathable jacket that provides the warmth needed beating upwind, whilst enabling quick ventilation and cooling when reaching downwind," said Mr Ulriksen. "The lightweight design is also highly beneficial when racing around the buoys or when packing for longer hauls."
Although the bursts of activity in sailing are not that different from the go-stop-go, on-and-off activity found when skiing at a resort, Helly Hanson says the jacket needed to be more protective than the best ski jackets while still insulating and ventilating.
Primaloft insulation is chosen for the H2 Flow Jacket due to its ability to still insulate even when wet constructed in a similar way to a vest.
Holes of different sizes are used to reduce weight while creating positive and negative spaces to trap heat in cold conditions and to allow fresh air to move freely around the body when the temperature increases.
Larger holes are at the back with smaller ones at the sides for increased insulation.
Zips are incorporated to allow excess hot air to be released.
Development for the new technology began in 2010 with the inspiration initiating from sailing and dialogues with sailors and other athletes the company sponsors.
"It's an age old dilemma between layering up when cold and layering down when hot," said Mr Ulriksen. "Our new jackets allow the end consumer to adjust their temperature without taking layers off and on again.
"Insulation is provided in positive and negative spaces, with a mesh between which allows the air to flow through and ensure the body's temperature is regulated.
"The combination of the insulation and air channels together with zippers is unique."
He added: "Temperature management is at the core of comfort and sustained physical performance."
Innovation
The process of innovation is ongoing for Henri Lloyd which over its 50-year history has introduced many firsts.
Developments are driven by the demands of sailing and implemented by the company's team of designers, scientists and textile engineers, with input from fabric producers and testing laboratories to constantly improve the technology.
New fabric technology influences the weight, breathability and design of garments to improve comfort and performance for the wearer.
"In some instances comfort means the avoidance of superchilling from cold caused by wind or water on the skin," says Henri Lloyd Marine account manager, Pippa Phillips.
"Likewise it can be endurance by protection from sun and dehydration.
"Our clothing systems are driven by a deep knowledge of the combinations of physiology, clothing technology and real life application."
Tested in the lab and in practice, products focus on the needs of sailors in terms of comfort and performance.
One of its key innovations of recent years has been the Optivision hood system, driven primarily by the needs of offshore sailors in bad weather.
As any sailor will tell you, having a hood pulled around your face is great to keep out the water but also severely reduces the angle of vision which can impact on safety. "The Optivision hood enables the same level of protection from the elements whilst maintaining peripheral vision," explained Ms Phillips.
Limits
Like any major clothing developer, Henri Lloyd tests its fabrics and garments to the limit in the lab as well as sailors to testing the products on the water.
Its latest advance, its Elite Offshore range will be launched at this year's METS.
The three-layer foul weather system is promised to deliver weight savings, higher breathability, greater warmth and improved performance and durability along with greater levels of comfort and ease of movement for the wearer.
Utilising a new fabric developed and produced in collaboration with Gore-TEX, Henri Lloyd has incorporated face fabric and liner within a three-layer laminate.
"The outer face has been engineered to maximise and optimise the weight to strength ratio and to achieve the desired aesthetic and handle of the textile," said Ms Phillips. "Durability and strength is managed through the entire supply chain including chemical engineering through the weaving and dying process."
To develop the fabric, the polymer and yarn production process was engineered at a molecular level to provide weight and performance characteristics producing a texturised crystalline yarn. This was then woven into a tight dense fabric creating strength and durability while reducing weight.
Another new range using bi-component fabric which incorporates stretch into outer shell garments will be launched at the end of the year.
The Orion range has increased agility and flexibility while offering super waterproof and windproof protection with breathability and ease of movement.